Hello! I'm excited to be guest blogging here today. Keizra is heading off to her honeymoon (Congrats!) and I am excited to share with you guys a few packing tips of my own. I'm heading off to Vegas in less than 2 weeks for my sister's 21st birthday. Now, you could say I'm an expert by now when it comes to traveling to Vegas because I've been so often and what helps the most is knowing I have my carry-on bag down! I've narrowed down my must have travel essentials for a carry on bag and have it ready to go for a vacation trip. Because buying those small travel essentials at an airport or a nearby grocery store turns out to be a lot more expensive. You do not want to start off your vacation broke. Take time to pack your carry on bag in advance. Flights can be long so it's important to be comfortable during your flight. Whether you are sleeping or reading, be prepared to have a safe and enjoyable flight with these must have travel essentials.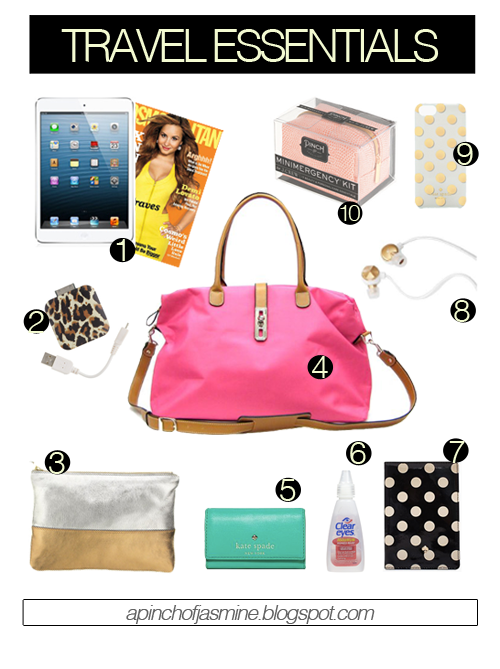 1. iPad and Magazines: Keep yourself entertained during your flight by taking your iPad and a few of your favorite magazines with you. Watch some movies or read the latest celebrity gossip.
2. J. Crew iPhone Back Up Battery: By far my favorite buy to date. It is a lifesaver and it's perfect for traveling. Flights do not have outlets and airport charging stations are usually always packed. Avoid dealing with your iPhone dying by carrying this cute iPhone backup battery with you everywhere.
3. Make Up Pouch: Keep your must have make up items in a small pouch. Don't come off your flight looking like a zombie. Pack your foundation, favorite lipgloss, fresh gum, small mirror - whatever brightens up your beautiful face after a long flight. Don't forget a comb!
4. Carry On Bag: Take a spacious yet stylish carry on bag with you that can pack all your carry on travel essentials, including a sweater or a scarf. You can find this pretty little thing at Amazon. (Except I just recently got a bigger carry on bag from Steve Madden from my parents for my birthday and I am so excited to use it!)
5. Kate Spade Card Holder: Airports have gift shops and it's tempting to buy a snack or a gift. This Kate Spade card holder is perfect to hold all your cards and ID without having to carry a large, bulky wallet.
6. Clear Eyes Eye Drops: I don't know about y'all, but a lot of times I fall asleep during my flight and wake up with dry eyes or red eyes. Keep a small, travel size eye drops bottle to clear your sleepy eyes.
7. Passport Holder: Don't forget the most important travel item - your passport! My biggest fear is losing my passport and not being able to reach my destination. Having a cute passport holder will help you remember to carry it with you at all times.
8. Headphones: We've all been on a flight with crying babies. Save yourself from the misery and buy a good pair of headphones that will successfully tune out the crying babies or the loud, obnoxious girl who likes to talk the entire flight.
9. iPhone Case: Buy a cute iPhone case, just because. Travel in style.
10. Mini Emergency Kit: You can find these pretty much anywhere. Mini Emergency Kits are a lifesaver when it comes to traveling. It is the must have travel essential. The J. Crew Mini Emergency Kit carries: hair spray, clear nail polish, nail polish remover, an emery board, lip balm, earring backs, clear elastics, a mending kit, double-sided emergency tape, stain remover, a deodorant towelette, pain reliever, a tampon, breath freshener, dental floss, a safety pin, and an adhesive bandage.
What are your must have carry one travel items? What can't you live without during your flight?